Corporate Event Planning,
Family Entertainment &
Retail Promotions
Looking for something extra entertaining for this year's festivities?
Is there a company event on the horizon and you're lost for ideas on what to do, where to do it and how on earth to arrange it all?
There's not much we can't do when it comes to providing you with an exciting, customized, corporate entertainment package. In fact, we've organized numerous functions for audiences of thousands - and others for as few as a dozen.
Each event is tailored to your personal needs and, of course your budget. Our range of services can accommodate not only a broad spectrum of professional entertainment but also the sourcing of locations and the decoration thereof, signage (e.g. banners), catering, music (from recorded to live), casino equipment, party supplies and rentals and even carnival rides. We know how to make it happen.
When we are hired by the client their event becomes the hub of the wheel, and the spokes of the wheel are the services that we supply.We are 6 companies in one.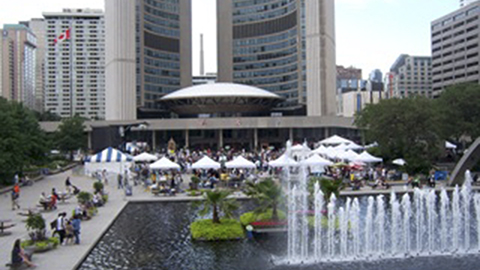 Entertainment Agency
Tents
Decor & Props
Party Supplies
Equipment & Games
Event Planning & Coordination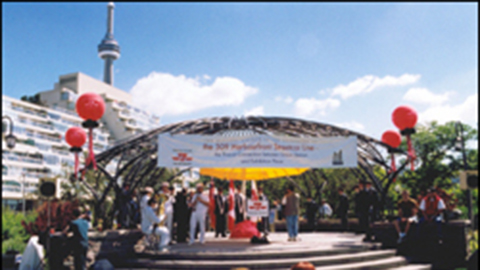 About Friendly Entertainment
Friendly Entertainment & Promotion Company had its beginning in 1979, when engineer John Quarterly first arrived in Canada and started doing volunteer work for the Canadian Opera Company, as a clown at Toronto's Harbourfront, while adding magic and juggling to routines that developed into The Amazing Dickens, an original and successful magic, mindreading, and clown act, later followed by Friendly the Clown, who specializes in performing for children's parties, parties for grownups, and walkabouts for corporate and retail events.
In England, John ran an activities club and organized all sorts of social and entertainment events. In Toronto, he worked as an entertainer at sidewalk sales in the Beaches, and people began to ask him to do children's parties. When the recession hit, engineering jobs were scarce, but more and more people were hiring John as an entertainer. He began booking other entertainers and collecting equipment like jumping castles, batting cages, carnival games, and tents. When he couldn't get the kinds of tents he wanted, he began designing and making them, and Friendly Tent Company was born.
As John gradually invested in equipment and props, he formed Friendly Entertainment & Promotion Company, which is now Toronto's full-service entertainment company with its own personnel, a warehouse full of equipment and décor, its own tent company, and its own entertainment agency - a direct booking agency. The agency has a current roster of several hundred professional entertainers and performers; it's not just an agency that pays more agents to book entertainment. Not only is a coordinated event assured by direct booking, it saves you money.
---
Testimonials
"
We had a "post-mortem" meeting on Sunday about the Festival on June 4th at St. Leonard's and we all decided we must do it again next year if possible. We reached that decision in large because of your contribution. Someone remarked early on what a difference the music made; the ponies went non-stop; the games were all much enjoyed. And of course, your magic show and your balloons were a delight. It was a pleasure working with you and we thank you for the big and little things that happened. Next time (when we become experts!) we will make sure you are credited more successfully than you were this year.
"
-Barbara Byers
On behalf of the Fund Raising Committee
St. Leonard's Anglican Church
"
I am writing you to thank you for the wonderful job you did for the Court in suggesting, arranging and managing so many of the details for the memorial event for Justice Lynn King. We came to you at the very last minute and you quickly determined the details of the plan, assessed the requirements, located the services and equipment, thoughtfully reviewed our plans and suggested some useful changes and additions. Despite the number of stakeholders involved in the Planning Committee, all with their contributions to make and the high number of tasks already delegated; you without complaint, focused on the outstanding elements and worked harmoniously with the other service providers in ensuring the success of the event. The personal attention you provided to our event ensured my confidence from the outset. Despite a grueling timetable, various limitations ad pressures, with a number of plans still evolving and flux, you tirelessly focused o the design and the successful production of this important evening.
Thank you again!
"
-Deborah Guild
Manager of Court Operations
Ontario Ministry of the Attorney General
Happy Clients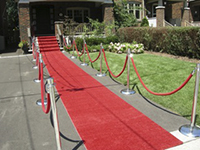 Red Carpets
A red carpet will create a great impression as your guests arrive at your event. The main purpose of the red carpet is to bring a sense of importance to your guests whilst marking the main entrance for them. Thus, highlighting the venue with some presence.
In a visit to the site, the client's requirements along with the site are analyzed. Suggestions are made based on experience and budget. Also, other event's elements are taken into account for best decoration results with safety assurance. Measuring the space and making calculations to fit the necessary equipment to organize different layouts, preventing delays for the final outcome.
Some red carpet uses:
School events (graduations)
Santa's Village
Movie events
CD launch parties
Funerals
Night Clubs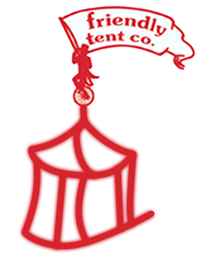 Tents
A tent will add elegance to you event. Our clients are provided with help to choose the right size tent for their event. As well as help to plan the location with its configuration by looking at the site to serve your requirements best. Then the logistics of the installation requirements will be taken care accurately, our judgement is based on our expertise.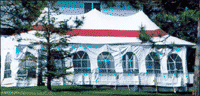 Canopies
Making a canopy fit your requirements
We can help you embellish you event with a canopy by analyzing the space available, the required use and the available budget. Having a canopy at an event makes a statement that can only be achieved with a canopy. "We are having an event!"
We will work with you and the constrains of the area vending requirements to ensure that your canopy works for you. The canopy makes a simple and easily installed display as it is very cost effective.
Increase happy customers in any establishment with an outdoors section
Environmental Reasons
Weather Protection for outdoor events so that the event can still take place.
Evening Events as the canopy creates a barrier between the dampness of the night and your guests. Also, there is available structure to hang lights on safely.
Winter events making an additional room with heating and some other extras we add to make a temporary room.
Effect Reasons
Décor, use a canopy as the structure for a decorative theme. Also, the canopy frame is a readymade support for decoration to be added.
Performers use a canopy as a focal point, to cover a stage for a performance and as change rooms also.
Health and Safety Reasons
Protects food during catered outdoor events. As it also is a Health and Safety requirement from the Health department.
Marketing and corporate events purposes
Presence, a canopy draws attention to your space and the product or service you are vending. A canopy can be used as a promotional tool by printing the company logo or name on the canopy, making it look more professional for your marketing purposes.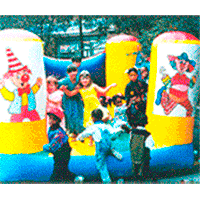 Specially for Kids
Bouncers
Mini Cars
Jumping Castles
Petting Zoo
Poney Rides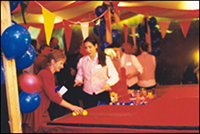 Conferences and Trade Shows
Booth Design
Booth Marketing Items
Decor
Equipment
Floor Plans
Hostesses
Speakers
Tents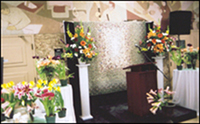 Decor
Event Design
Props
Theme Parties
Set Design
Sky Tracker
Christmas
Easter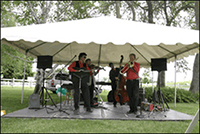 Sound, Lights & Staging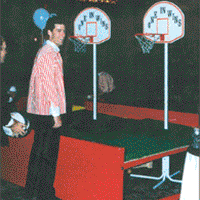 Games
Air Hockey
Arcade Games
Batting Cage
Darts
Foozeball
Mini Golf
Pop-A-Shot
Basketball
Speed Ball (Radar Gun)
Bean Bag Toss
Fish Pond
Frogger
Hoopla
Milk Bottles
Picket Fence
Pop Cans
Potato Sacks
Ring Toss
Shooting Gallery
Speed Ball (Radar Gun)
Tic Tac Toe
Wacky Wire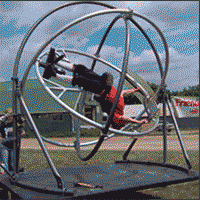 Specialty Items
Amazin Tower Slide
Bouncer
Ballon-O-Gram
Batting Cage
Bungee Runner
Carnival Booths
Climbing Wall
Dunk Tank
Foozeball
Gyroscope
Jumping Castle
Mini Golf
Money Machine
Pop-a-Shot Basketball
Sumo Wrestling
Gladiator Joisting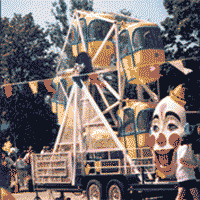 Mechanical Carnival Rides
Carousel
Castle Creatures
Merry-Go-Round
Ferris Wheel
Swingers
Bumper Cars
Trains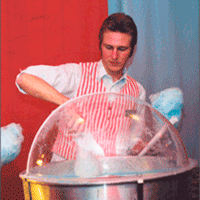 Friendly Food (Concession)
Candy Floss
Ice Cream Cart
PopCorn
Sno-Cones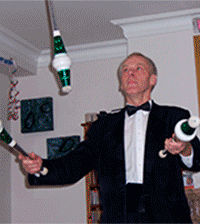 Magician
The Amazing Dickens
Has entertained corporate, family, children and retail audiences in Toronto and in Ontario of all ages for many years. Has performed for family events celebrating christenings and 1st birthdays through to the eldest for a 104th birthday. This range of ages is probably unique.
Each performance is a mastery of entertainment, humor, illusions and magic: close-up magic, strolling magic, stage magic, parlor party magic, and has a Mentalist/magic show. Also, a juggler and combines this in most of his performances.
We can also supply other magicians' illusionists and manipulators to make your event even more Magical
Dickens the Magician's shows are always very enjoyable and entertaining, his use of humor is light and spontaneous. As audiences in Toronto are very different he will adapt his show and playfulness to respect the audience, the mark of a good magician. The market for a magician in Toronto is very varied, in part because of the diverse cultural background of Toronto. With this increasing population in the Greater Toronto Area there are many more religious festivals and celebrations that would employ a magician or illusionist for entertainment. For example Eid and Diwali.
As a magician performing for many different religious groups he is aware that there may be special requirements depending on the religion and the individual requirements of each group. The Amazing Dickens the Magician has performed for many, many different ethnic and cultural events, groups and families in and around Toronto.
Dickens the Magician looks forward to working with you to make your event a great success.
The Amazing Dickens the Magician has performed:
Trade shows
Conferences
Corporate Product Launches
Client appreciation events
Staff appreciation events
Motivational Speeches
Corporate Marketing meeting
Grand openings (Corporate and Retail)
Retirement Parties
Weddings
Engagement Showers
Baby Showers
Barbecues
Church and religious fundraising
Community events
School fundraisers
School Proms
University events
Birthday Parties
Christenings
Bar and Bat Mitzvah
Hanukkah
Purim
Eid
Diwali
Temple Celebrations
Christmas Parties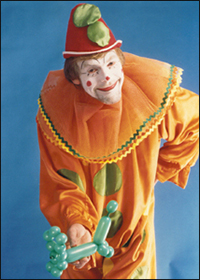 Clown
We supply Clowns for any occassion
Magic
Your guests will love this close-up form of magic, it happens right before their eyes. Sometimes right in their hands! Bringing magic & fun to children and adults!
Balloons
Balloon sculpting is a popular form of entertainment! People love to watch balloons become art, and they're thrilled to receive the sculpture when it's done.
Face-art
With an artistic flourish, let our face painters enthrall your guests.
Clowning
Your guests will laugh, giggle and smile every time they see the clowns strolling thru the crowds at your next event.
Juggling
Juggling with skill and dexterity! Sure to be a hit.
Unicycling
Fun and entertaining for children and adults!
We have supplied clowns for the following events:
Children's events
Birthday Parties
Retail openings
Strolling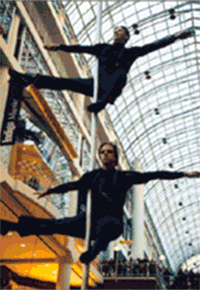 Performers
Accordionist
Acrobats
Artist
Belly Dancer
Callers
Caricaturist
Children's Band
Clowns
Comedian
Dixieland Band
Elvis
Pace Painter
Fire Eater
Flutist
Folk Band
Guitarist
Harpist
Hypnotist
Jazz Band
Juggler
Limbo Dancers
Look-a-Like
Magician
Mariachi Band
Mentalist
Mime
Models
Musicians
Palm Reader
Photographer
Pianist
Santa Claus
Saxphone Player
Singer
Skaters
Songwriters
Speakers
Steel Band
Stilt Walkers
Story Tellers
Stuntman
Tarot Card Reader
Town Crier
Trumpeter
Unicyclist
Ventriloquist
Henna Tattoos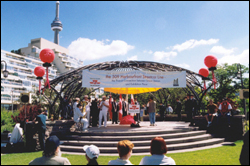 Corporate Events
A Plan for Success!
We have all the resources and talent you need to make your company, client, staff, group or office entertainment event an enjoyable success; whether an intimate group of 10 or a larger gathering of 200+.
Whatever the event, we know it is extremely important to you. Your success is our business.
Functions can include grand opening's and dedication ceremonies, product launches, theme parties, black-tie galas, company anniversaries, holiday functions, employee picnics, VIP receptions.
Services include:
Conference
Meeting Management
Fun Days
Christmas Parties
Production Set up
Guest Speakers
Entertainment and Talent
Event Design and Decor
Event Planning and Production
Floral Arrangements
Food & Beverage
On-site Event Management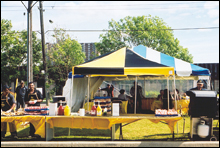 Meeting Plannings
Your success is our business
We have all the resources and talent you need to make your company meeting a big success, we know your event is extremely important to you
Guest Speakers
Motivational Speeches
Office supplies
Refreshments
Luncheons
Floral Arrangements
Event Design and Decor
Retail Openings
We know that your retail opening is extremely important to you. We can help make it a big success.
Here are some of the items we can supply for you:
Strolling performers
Face Painting
Clowns
Sound Equipment
Staging
Food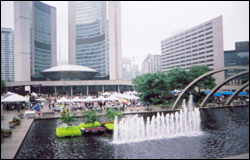 Festivals
We have the experience and the equipment to make your festival a big success.
Some events we have worked on are:
Business Improvement Area's
National Holidays
Religious Events
Ethnic Celebrations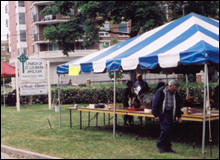 Fundraising
We know that raising funds to support your programs and special projects is time consuming and hard work regardless of the size of your group or its interests. We have supplied equipment and performers for a variety of Charities, Churches and the United Way. We try to make your fundraising efforts a little easier by providing a wide variety of equipment and entertainers.
Casinos
Entertainers
Tents
Carnival Games
Carnival Rides
Party Supplies
Clowns
Family Events
There are a whole host of ways in which a nice, fun event can be organized for friends and family. We can help make your Family Event a big success.
Some events we have organized are:
Weddings
Kids Parties
Retirement Parties
Bar Mitzvah
Religious Celebrations
Christmas Parties
Easter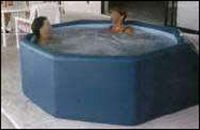 Hot Tub Parties
People are continually looking for fun, easy and relaxing ways of having a party or other gathering for their friends. Obviously, there are a whole host of ways in which a nice, fun party can be organized for friend and family.
Some people are particularly fond of hosting get-togethers and parties around swimming pools and hot tubs. Indeed, a hot tub party can be a most enjoyable and relaxing way of spending time with friends and family.
Having a hot tub is perfect for any occasion; birthdays, parties, graduations, romantic weekends, personal time for just you, even for an amazing hydrotherapy healing session. We promise your hot tub experience will be an enjoyable one for you, your family, and your friends.
For a fun event, let us Plan & Supply your hot tub party.
Hot Tub
Tent
Catered or BBQ
Decorations
Casino Parties
Here's a Great Party Idea
If you want to make sure that your party is a success then let Friendly Entertainment & Promotions bring your guests the thrill and excitement of real casino action. Every roll of the dice, spin of the wheel, and turn of a card will ensure that your party will be talked about favorably long after it is over.
Friendly Entertainment & Promotions offers casino parties for your home, work place, or any other venue where you want to party. All you need to do is tell us when and where and we do everything, from set-up to breakdown.
Casino Style Parties are an excellent idea for fundraising events.
Let us organize your poker party or event
We can supply the following plus more:
Hold em Poker
Black Jack
Roulette
Decorations For All Your Party Needs
Party Supplies
There are a whole host of ways in which a nice, fun party can be organized for friends and family. We can help make your party a big success. Let us help you with your party supplies.
Balloons
Entertainers
Decorations
Sound Equipment
Staging
Tables
Chairs
Table Clothes
Cutlery
BBQ's
Food
Party Planner
A Party Planner will:
Save you money
Make you look good
Take all the stress out of planning the event
Help you your meet budget requirements
Help you with a theme for your party if you require one
Ensure that all the logistical requirements are planned
Help with invitations
Must-haves for Party Planning:
Reason
Desired Results or goals
Budget
Planning & Logistical Implementation
There are quite often ways that, we as party planners, can find for reducing the costs on many components that make up a party.
When planning a party, many people will only look at the price being charged. In other words, they do not look at the value. This is where the party planner can advise you as to what will work.
Party Planning services
Party Planner services such, as we supply at Friendly Entertainment & Promotion Company will ensure a problem-free event as we only use professional entertainment. We ask many questions about the requirements of our clients to be certain we know what our client is really requiring.
We will keep an eye on the budget range and before committing any expenditure, we will inform our client.
We always keep in touch with our clients so that we can inform them of what is happening in the implementation process of the party planning.
We may give a couple of packages and cost options for the party
Many of our clients like this service that we give them a choice of package they can choose. They have realized that an added component to the party is worth the value and will tell us to incorporate this in the party.
If a client is trying to put too much into a party, or some components that may be a waste of money, we will inform our client of the pros and cons and the professional reasons for them.
The way we work enables us to plan, coordinate, and logistically implement a successful party for our client with a cost they are happy with, and they can make an informed decision
Friendly Entertainment & Promotion Company has the ability to plan the party and supply all the requirements for the party from within one company. This is because we have different divisions within the company which use equipment and supplies from our own warehouse
Planning and consulting
Entertainment Agency
Props and Decor
Party Supplies
Rental Type Equipment
Casinos
Equipment
Carnival games and equipment
concession equipment
food
Tents
Stage, lighting and sound
Because of the unique structure of the company, the client, can sole source the complete party from one contact point.
This also means that when we are installing any equipment, decor stage, sound or supplies we in general will use the same labour and delivery so there is usually only one delivery and set up cost.
This results in reduced costs for Friendly Entertainment & Promotion Company, which will also then results in a lower charge to our clients for our Party Planning
Another benefit to using Friendly Entertainment & Promotion Company's party planning services is that for some parties we may deduct a percentage of our party planning consulting fees from the final charge.
Working with our clients' requirements we will produce a great, well planned party for you!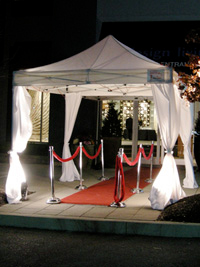 Friendly Entertaiment & Promotions Company can supply props, performers and equipment for your film project or commercial.
Here are some of the items we can supply for you:
Heaters
Fans
Tents
Sound Equipment
Staging
Casino Equipment
Gyroscope